Again I woke up before dawn.
This time it was the new gig that woke me up. I'm not totally nervous about the work, I will eventually have to do it. I'm nervous about doing adult stuff that comes with it.
I've literally haven't driven in the US in the past 5 years. I'm nervous to drive around. I'm nervous about going into places and being like "hi, I'm an adult, I'm here to take pictures." Or "hi! I'm your Uber driver and I do a lot of other things." Yay yay yay.
Yep.
I'm silly.
I feel like Vincent Adultman.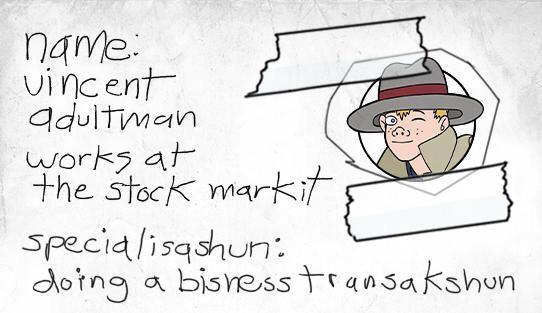 Yesterday I started looking into printing my business cards. My design looks something like Vincent's.
---
I couldn't go back to sleep.
Too much in my mind.
So I played Zelda to distract myself, like always.
And that needs to stop. So I can adult.
---
I get to call a bunch of places today and tell them I'm planning on taking pictures of such places on Thursday. That's my adulting for the day. I hate talking on the phone.
Need to do more adulting via emails.
---
I'm going to get paid less than what I was hoping for. Or maybe more? I couldn't really tell on the email. I think it's half of what I used to get paid per day in Los Angeles. All I know is I'll be doing more work. And I have so much more work in my head. I should really do it.
Query stories today. Do photography work tomorrow. Start writing more articles.
---
Oh yeah.
And Tijuana is fucking waterless for the next few days.
At least this time they announced it. But yeah. No running water in the whole city for the next few days. Which is totally fucked.
---
My setup is a bit overkill.
I mean… a Lumedyne flash battery recycler?! What for?!
I'm not sure why I still have it. I think it belongs to an agency I worked for and I kept it by accident. It's an old one too. I don't think they even sell those battery packs anymore. I'm not even sure if it works.
(oh. I'm talking about that rectangular box in front of the lens).
I also found a really old CF card. Inside of it. My friend's wedding in Montreal from 2011.
---
And you guessed right. I'm not really quitting Zelda.
I am however reducing my play time. It seriously is a bad addiction when all I want to do is play Zelda and it doesn't let me work. So I'm going to setup a time limit. Can't play for more than 2 hours a day. And that's already very generous. I can't keep going without working.
---
And there is so much in my mind I get overwhelmed and end up doing nothing (playing Zelda again).
---
Driving for Uber, Tijuana Adventure, business cards, feature stories (query), new photography gig, news stories (query), food articles, play guitar, get in a jazz band, do other photography work, start a show…
---
Oh yeah.
Speaking of a show. Someone from A&E contacted me that they are doing a show about Tijuana and they want to talk to me.
Also.
The Reddit meetup is this Thursday at 6:00 pm in Plaza Fiesta. I try to do too much…
---
Uber hasn't gotten back to me, but Checkr did a background check on me and sent it yesterday at night.
Here are the results….
Drum roll…
….
..
Clear!
I'm not a criminal!
Another part of the report also shows that my license was first issued in 2008. That should clear me to get a car through Uber.
---
Beisbol story by Justin O'Connell is out today!
Not out right now… because I'm still typing this very early. But out very soon!
I helped on it!
I should get some money from it. A bit. Because I played a role, and perhaps they will use a picture I took? I'm so bad at business and getting money….
---
This blog is really fucking stupid and weird.
If you are reading this now, I'm very aware I'm weird, but are you aware you are even weirder for reading this? You are getting a glimpse of my mind. Random rapid thoughts coming at you. Non-sense.
It's like I'm trying to break a record for the most idiotic writing of the century. 1,000+ words of vomit every day. Just for the kicks. Just to keep on typing.
---
It's way too early and I'm sending emails left and right.
Yes. Someone from A&E contacted me because they are going to do a show in Tijuana. I just replied to an email that I thought I had replied to before…
So let's see what that is about. Maybe more gigs? Hopefully more gigs. I don't know. I already have so much shit in my mind and I'm just adding more.
I'll give up and play Zelda.
---
Yesterday I didn't do much but figure out the new gig (and play Zelda). Plan my route accordingly. Make a list of places I need to contact. At least for my first gig I have an insider on one of my shoots. That's going to help a lot.
I haven't written jack shit.
Just word vomit.
---
The A&E guy called me while I was having dinner at Mamut with my girlfriend. I went to meet her were always do and we went to eat where we go often. Mamut seems to be the go-to place for burgers and beer for us now. She gets the portobello and shit tons of chiles toreados. I get whatever other burger or food they have. It's mostly a guarantee that it will be passable to great (and cheap).
After Mamut, we filled the growler with Rye IPA, and came home.
New Louis CK special on Netflix.
It's very inspiring.
Inspiring to kill oneself.  Pure existentialist comedy Louis style. And now he wears a suit. He didn't even mention this. But now he just wears suits. Because at the age of 49 and after two daughters, he is starting to adult. I wonder if I will ever wear a suit for just for ordinary occasions. Just to look snazzy.
---
I'm hungry now. Waking up so early is weird. I should have gone back to bed. And fuck not having water.
---
Well, ladee-ladaaaaa…
I turned the faucet on and wha-law! Water!
Wha-law = vóila excgarated.
---
No idea what I'm talking about?
Here.
An inspiring new word invented by a redditor on March 23, 2014. The redditor was actually trying to spell exaggerated. This word was misspelled so horribly that when it was googled the only thing that came up was a link to the comment itself.
Defined by Urban Dictionary.
---
I discovered how to always get that line every time.
---
I'm just wasting time until that beisbol story gets published.
---
Ok. The beisbol story is taking forever.
Fuck it.
I'll talk about it tomorrow.
Here's an article by the roommate instead.
It's about this band called Hot Nerds.
They are pretty crazy.
Crazy people drink a lot of coffee. The coffee I made this morning is pretty weak.
---
The early morning sun hits heavy on my desk. I should shower and play Zelda.
Then do all the work that I said I was going to do.
---